CREATE AN EXIT PLAN TO SELL YOUR BUSINESS AND PUT MILLIONS OF DOLLARS IN YOUR POCKET
You were competitive and tireless in your efforts to build a successful business. Now, turn that effort into millions of dollars by selling your business for the optimal price and best terms.
But, as a business owner approaches their exit, confusion often sets in as there are many unanswered questions:
How do I ensure my company will attract a buyer when I am ready to sell?
What is the value of my business, so I can be sure a buyer won't steal my company?
Will the net proceeds be enough money to sustain my life at the same level I enjoy as a business owner?
When should I sell my business?
Who can help me reach buyers and guide me through the process?
What will I do after I sell my business?
How do I protect my wealth once I've sold my business?
Written in layman's terms and applicable across industries, Master Your Exit Plan is a roadmap that provides the answers to the above questions and brings clarity to what is a traditionally difficult process. Chris Vanderzyden presents every critical step to create a Master Exit Plan that will help you successfully execute the sale of your business. She shows you how to avoid costly mistakes when selling so you can enjoy financial security and preserve your legacy for future generations.
If you own a business that you hope to sell someday, this is the best exit planning book you could buy!
"If you want to be successful in selling your business, read this book. It will mean millions of dollars more in your pocket."
"In Master Your Exit Plan, Chris Vanderzyden provides a roadmap with easily understood steps and illustrative cases. This book is valuable to all business owners. As an entrepreneur myself, I wish I had these insights three businesses ago. This book is a must-read, whether you are a seasoned owner looking to sell a business or an entrepreneur just getting started."
"Master Your Exit Plan is a great educational tool that provides business owners with the necessary guidance to ensure a successful transition so their businesses and our communities will continue to thrive."
"There is a lot to consider when selling your business and Master Your Exit Plan will provide you with practical advice and strategies so you can maximize your results upon exit. This is a must-read for all business owners."
"The second best way to Master Your Exit Plan is to have one! The best way is to have a master advisor to aid you in navigating the process. Chris Vanderzyden shows you how to navigate the obstacles and come out on top with any merger or acquisition!"
"Chris Vanderzyden has tackled the issues all of us business owners face or will face and has laid out a roadmap for all to follow."
Read this book to acquaint yourself with smart strategies that set you and your business up for the next chapter. Combining her seasoned expertise with the acumen of business planning advisors, Chris Vanderzyden, breaks down exit planning into thoughtful and manageable steps designed to optimize value—for you and your legacy. Clear. Instructive. Actionable."
"Master Your Exit Plan presents the often complex process of selling a business in a clear and concise manner. Chris Vanderzyden arms the reader with valuable information that will save sellers from making costly mistakes. The book is a must-read for every business owner, regardless of the stage of development of the business."
"Chris has written a terrific guide with clear steps as to how to go through this process and strategies that will maximize the value of your business, while minimizing the stress on you. Read this book and be armed with the information you need for a successful transition to 'what happens next.'"
"Chris Vanderzyden uses her decades of experience to enlighten readers on how to avoid many of the mistakes made when planning for and selling a business. Master Your Exit Plan will benefit all business owners—large or small. Read this book today, because your exit may be here before you know it."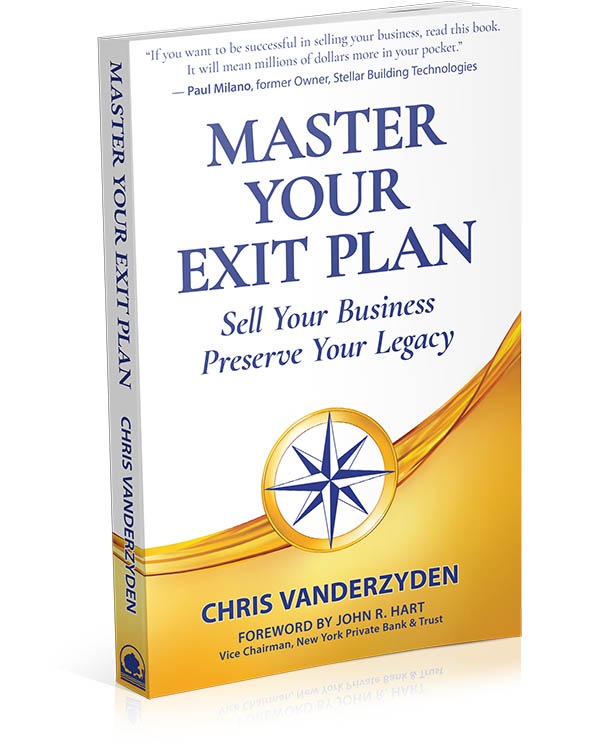 Get your own copy of
Master Your Exit Plan
info@legacypartnersllp.com
Boston – 617.314.9606
Sarasota – 941.388.8970
Copyright © 2022 Legacy Partners LLP | Exit Planning | Mergers & Acquisitions Advisors